Vale High School - Class of 1969
including Graduating Classes 1935 - 2020
In Memory
Patricia Fleming (Burke) - Class Of 1969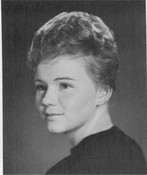 Patricia Fleming was born August 9, 1951, and was raised on a small dairy farm in Vale, Oregon at the edge of the Bully Creek Reservoir. Spending her childhood raising cattle, riding horses, participating in 4-H and learning a strong work ethic and a sense of participating in the community became valuable traits for Pat to foster, as she spent 32 years in a career with the Department of Human Services where she was a true advocate for those in need. Pat was passionate about her work with senior citizens and her fellow co-workers. She was an active member of the employee union and fought for fairness and employee rights. Pat did her job like she did everything else in life ... with gusto!
After graduating from Vale High School in 1969, Pat married, worked and raised three children; Charlotte Corwin (Tyson, Prineville), Tamara Rufener (Sam, Grizzly), and James Hite (Jill, Prineville). Pat and her husband, Roy Hogue, loved their family and were active with the seven grandchildren and one great grandchild and could always be seen on the sideline of the numerous sporting events and 4-H activities in which the kids participated.
After retiring in 2008, Pat was able to spend more time with her hobbies and the grandchildren. She loved her horses and dogs and enjoyed quilting and canning. Gardening and working in her greenhouse was a treasured hobby for Pat. Retirement was shortened prematurely by pancreatic cancer. The past two months was a time for Pat to focus on learning and understanding as much as possible about the illness and to share that time with her family.
Pat died on October 7, 2009 surrounded by her loving husband and family.