Vale High School - Class of 1969
including Graduating Classes 1935 - 2020
In Memory
Daniel L. Brinton - Class Of 1969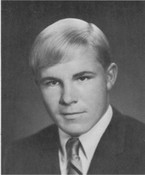 Daniel L. Brinton - March 28, 1951 - October 9, 1996
FORT WORTH -- Daniel L., "Dan", Brinton, 45, a marine mechanic, died Oct. 9 in Fort Worth.
Funeral: At a later date in Oregon.
Visitation: 2 to 8 p.m. today at the family home.
Daniel Brinton was born March 28, 1951 in Omaha Neb.
Survivors: Son, Stephen Brinton of Fort Worth; daughter and her husband, Andrea Brinton-Green and Jonathon of Fort Worth; mother, Marian Hale of Star, Idaho; brother Mark Brinton of Vale, Ore.; sisters, Constance Brinton of Oahu, Hawaii, and Kathleen Corrigall of Coos Bay, Ore.; nieces and nephews, Maia James of San Francisco,Tina James of Portland, Ore., Andrew James of Groton, Conn., Michelle Conn of Bend, Ore., Daniel Brinton of Jamieson, Ore., and Angela Brinton of Ontario Ore.; aunts, Judie Walker of Delano, Calif., and Mary Phillips and Fern Cameron, both of Nebraska; and special friends, David White of Madras, Ore., Steven and Kay Nakamoto of Beaverton, Ore., and Ross VanLoo of Oregon.
Shannon Rose Hill Funeral Chapel