Vale High School - Class of 1969
including Graduating Classes 1935 - 2020
In Memory
Bob Standage - Class Of 1972 VIEW PROFILE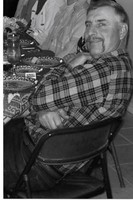 Robert (Bob) Wayne Standage passed away at his home July 19, 2012, in Vale. He was 58 years old.
Funeral services will be held at 11 a.m. Friday, July 27, 2012, at Vale Christian Church, Vale, Ore. Burial will follow at Valley View Cemetery, Vale, Ore.
Bob was born the second of four children to Darrell and Doris (Boren) Standage on his mother's birthday, Nov. 29, 1953, in Ontario, Ore. Bob attended schools in Vale, graduating from high school in 1972. While in school he excelled in football, basketball, and baseball. He was a member of the Future Farmers of American all four years. After graduation, Bob attended Eastern Oregon College in La Grande, Ore. That is where he met his wife, Mary Ann Lindley. Bob left college early to return to Vale to farm with his father. Following Mary Ann's college graduation and also being hired to teach in Vale, Bob and Mary Ann were married Aug. 12, 1976. Bob enjoyed hunting, fishing, trapping, playing Texas Hold Em', visiting with many friends, playing practical jokes and best of all sharing a good joke! Bob took great pride in improving his cattle operation and his crop production. He was proud of the awards he shared with his father in potato production: Heinz Best Potato Production grown over a five year period and Multiple Sweet Corn awards for Highest Yields. His work ethic was next to none, but he always found time for those road side visits he loved with his neighbors while his supper was getting cold. Because Bob's passion was trapping he spent many winter hours setting traps and then preparing the furs to sell. He took great pride that his son, Matt at 9 years old became the youngest trapper in the state of Oregon. He loved to visit with others who shared his passion and then decide if he should give out any of his "secrets" to catching those cagey varmints. Bob had received 17 awards for Excellence in Fur Handling from the Oregon Territorial Council on Furs. This wasn't information Bob shared with everyone but when other trappers saw the results they knew.
Bob is survived by his wife of 35 years, Mary Ann; his son, Matt; parents, Darrell and Doris Standage, of Vale; sisters, Rhonda Zigler, Caldwell, Idaho, Patty Harmon (Jerry), Boise, Idaho, and Tami Stout (John), of Boise, Idaho; a niece, Michelle Polizzi, Nampa, Idaho; and many lifelong friends!
Bob was preceded in death by friends, Ernie White and Mike Jacobs.
In lieu of flowers the family has asked to please make your contributions to a charity of your choice in memory of Bob Standage.
Click here to see Bob's last Profile entry.